Craigieburn West
Location
Craigieburn West Early Learning Centre (ELC)
265 Waterview Boulevard
Craigieburn VIC 3064

Our centre is a five-minute drive or bus ride from Craigieburn Central and a ten-minute drive from Craigieburn train station.

We're located next door to Aitken Creek Primary School where we also run an Outside School Hours Care (OSHC) service.
Opening hours
Monday – Friday
6:30am – 6:30pm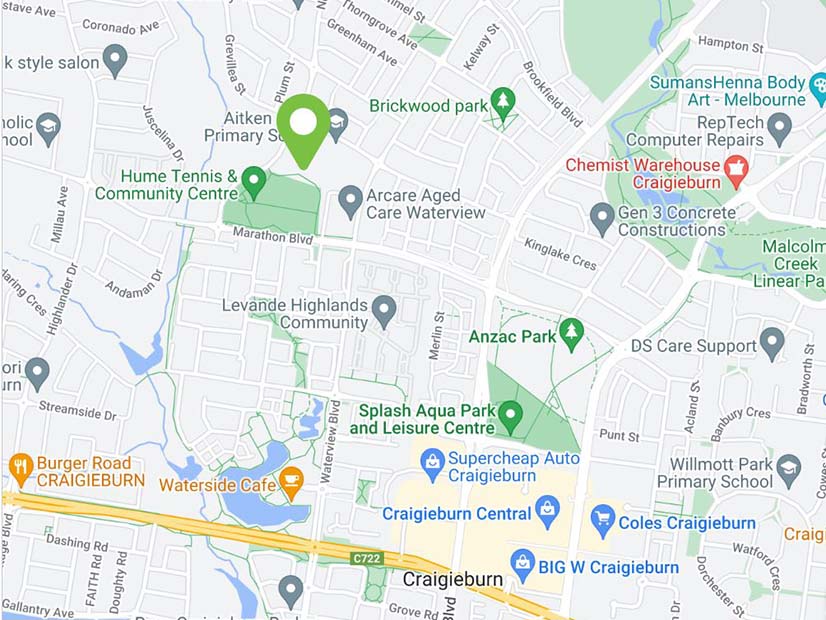 At our Craigieburn West centre, we specialise in early education and you'll find a calm, warm and welcoming environment. Our educators will support, nurture and encourage your child's development through evidence-informed practice that emphasises discovery and adventure.

As a community-focused, not-for-profit centre, we enjoy getting to know all our families and pride ourselves on the relationships we develop.
Childcare and kindergarten services
Long day care
We provide childcare and early education for children from six weeks to five years of age.
Integrated kindergarten
We have fully funded, free kindergarten programs integrated into long day care.

Both three-year-old kinder and four-year-old kinder is offered and led by a bachelor-qualified early childhood teacher.
Our facilities
We offer a great range of facilities to support your child's learning and development. Our rooms are bright, spacious and custom-built with safety and inclusivity at the forefront.

Our outdoor areas also provide lots of space for your child to explore and discover new things while getting active and connecting with nature. Your child will have everything they need to play, learn and thrive throughout their day.

As part of our holistic approach to early learning, we create engaging, fun and educational experiences for all children. We'll ensure that your child builds connections with others and grows in confidence, so that they feel prepared and excited for school.
Meet Kylie Keen (Centre Manager)
With 27 years of experience in early childhood education, I'm passionate about caring for children and nurturing their social, emotional, physical and educational needs.

I create a safe and comfortable learning environment, which is critical for both families and educators as it allows the best outcomes for children.

I also pride myself on leading a team to success. I empower our educators to achieve their own personal and professional goals, so that families feel confident in us caring for and educating their child.

I am a mum of five children myself (and have three grandchildren), which keeps me on my toes! My family also work with children who require out of home care. Although this can come with challenges, it's rewarding to watch children and young people thrive in a supportive environment.

You're welcome to visit us in centre, and I look forward to meeting you!
Why choose the Y?

We provide your child with:

Prices
To support our families, we offer both permanent and casual enrolment options. Please see our current daily price for child care (long day care) below.
Our programs qualify for the Federal Government's Child Care Subsidy. The Child Care Subsidy (CCS) helps eligible families access approved and registered child care providers, by partially subsidising the cost of daily fees. Please note, the prices below do not include any child care subsidy you may be entitled to. Visit the Services Australia website to find out more information. We also recommend using this Child Care Subsidy Calculator to generate an estimate of your new subsidy payments. From 10 July 2023 there will be changes to Child Care Subsidy (CCS).
Childcare permanent
Childcare casual
Kindergarten permanent
Kindergarten casual
Free Kinder: how does it work?
We're participating in the Victorian Government's Free Kinder program. Free Kinder provides up to 15 hours of free kindergarten for three and four-year-olds, up to a value of $2000 for integrated kindergarten programs.
The Victorian Government provides Free Kinder funding to our ELC, not directly to families. This means that Free Kinder will be credited on your invoice and you won't be out of pocket.
For integrated kindergarten programs (where kinder is a part of long day care), Free Kinder will appear as a weekly credit of $50.00 on your YMCA account statement. We deduct this credit from your fees, so you'll only need to pay for the cost of day care.
How to enrol
1. Talk to us

Talk to our customer service team. We can check child care and kinder availability and explain the next steps. Submit an enquiry form or call us on (03) 8371 0500.

2. Visit us

Meet our centre manager and visit our facilities. Book your tour online, or one of our team members can book you in when we speak with you.
Book a tour

3. Register or sign in

New enrolments, casual enrolments and booking changes are managed through an online system called My Family Lounge. You can register online for a new account or sign in with an existing account.
4. Enrol

Follow our how to enrol guide and complete your enrolment in My Family Lounge.
Frequently asked questions
Below we've answered some common questions to support new parents when choosing an early learning centre. You can also read more about enrolment and centre processes at the Y on our Early Learning FAQs page.

The Y are leaders in quality and safety standards. Our program and procedures have been independently reviewed by the Australian Childhood Foundation.

The Y uses the Kinder Tick because we deliver a government approved and funded kindergarten program led by a qualified early childhood teacher.
Other services nearby