You need to pick up your child from school, but you're stuck at work. You've exhausted all ideas for keeping your child entertained during the holidays, and you're finding it a challenge to juggle work, family and other commitments.
Sound familiar?

For many busy families, Outside School Hours Care (OSHC) is a great help. OSHC services provide education and care for children before and after the school day, as well during the school holidays, which enhances and complements the school experience. More importantly, OSHC provides a great opportunity for your child to experience something new and do more of the things they love.

At YMCA Victoria (the Y), your child will get the chance to discover and explore the world around them, spend time with friends and grow in confidence. We'll work with you to understand your child and help them reach their full potential — because you know your child best.
What OSHC services do the Y offer?
We provide OSHC services for families, children and schools across Victoria. Suitable for children aged from five to 12 years old, we offer both before and after school care and school holiday programs. Many of our programs take place in local primary schools, community centres or recreation centres so that your child can grow and learn in a fun, friendly and familiar environment.
We tailor our out of school hours care to support each child's individual interests and ideas. It means you'll have one less thing to worry about - and your child will have a great time too.
Our OSHC educators follow the My Time, Our Place framework for school-aged children.
Find out more about our services.
Before and After School Care School Holiday Programs
The Y also runs a High Intensity Outside School Hours Care Initiative based at Kangaroo Flats in Bendigo, which enables children with disabilities to access quality OSHC services for free.
We provide OSHC activities your child will love
Wondering what your child will do at out of school hours care?
Our friendly and experienced educators deliver a range of enjoyable activities that will spark your child's interest and build their independence. Your child won't be able to wait to tell you what they got up to!
Some of our activities include:
active play outdoors;
arts and crafts;
board games and puzzles;
cooking and baking;
drama, singing and dancing;
gardening and recycling;
homework and reading time;
sports, ball games and team games;
themed incursions and exciting excursions.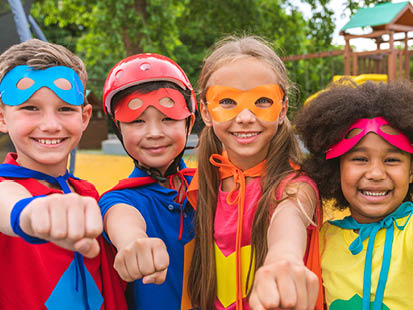 Interested in OSHC school partnerships with the Y?
As an Outside School Hours Care provider in Victoria, we partner with schools to deliver high quality care for children.
Schools partner with us because we care about meeting the needs of the community. We work closely with schools, committees and parents to develop the education and care that we deliver.
We also care about the safety and wellbeing of your children and have a strong reputation for upholding child safeguarding standards. Our policies and procedures follow the National Quality Framework, while we also meet all seven National Quality Standards and are accredited by the Australian Childhood Foundation.