Why is kindergarten important?
Kindergarten is an important part of your child's educational development and prepares them for school. It's not just about reading, writing and maths skills. It's also about learning valuable social and emotional skills. Kinder can even build your child's awareness, confidence and self-esteem. This early education provides a vital foundation for your child's future success in life.
The Victorian Government recognises the importance of kindergarten and has introduced the Free Kinder program to help give every child a great start in life. Free Kinder provides funding for up to 15 hours of kindergarten per week for three and four-year-olds.
3 and 4-year-old kinder
The Y Victoria offers high quality, play-based kindergarten programs to enable young minds to flourish. We teach fundamental language, literacy, and numeracy skills along with social and emotional learning which helps prepare children for school and future success in life. Our caring and qualified educators tailor programs to your child's individual needs and interests to ensure they thrive and meet key developmental milestones.
Types of kindergarten programs
Kindergarten is a one to two-year preschool program for young children before they start school. Kinder is a child's first formal education and is a program delivered by qualified early childhood teachers.
We offer 3-year-old and 4-year-old kindergarten programs at all our locations.
There are two main types of kindergarten: integrated kindergarten and sessional kindergarten.
Integrated kindergarten Vs. sessional kindergarten
Integrated kindergarten takes place within long day care services, and is sometimes called 'long day care kindergarten'.
This is distinct to sessional kindergarten programs which operate specific days with session start and finish times.
Sessional kindergarten
Sessional kindergarten is offered on set days and times and is based on local community needs and in partnership with local government. The Y offers sessional kindergarten in four locations: Bendigo, Derrimut, Mernda and Truganina South. Our sessional kindergarten hours operate between 9am and 2pm on specific days. View the location page for specific times.
Integrated kindergarten (Long day care kindergarten)
Integrated kinder provides families with additional hours of care in the morning and afternoon outside of the kinder program. This makes integrated kinder a popular choice for active and working families.
The Y provides integrated 3 and 4-year-old kindergarten programs at all our 17 early learning centre locations across Melbourne and Victoria and one location in NSW.
Our Victorian kinder programs run for 40 weeks during the school term, from 9am – 2pm each day.
Kindergarten benefits
Benefits of integrated kindergarten at the Y
Our centre services are open between 6:30am and 6:30pm
The Y provides kindergarten programs each day, Monday - Friday between 9am and 2pm. You can choose which kinder day suits you and your child best.
Drop off and pick up your child any time during the opening times.
One easy drop off and pick up – siblings are able to attend the same centre for child care or another kinder program.
Everything your child needs for the day is included in the daily fee - the kinder program, plus all nutritious meals and snacks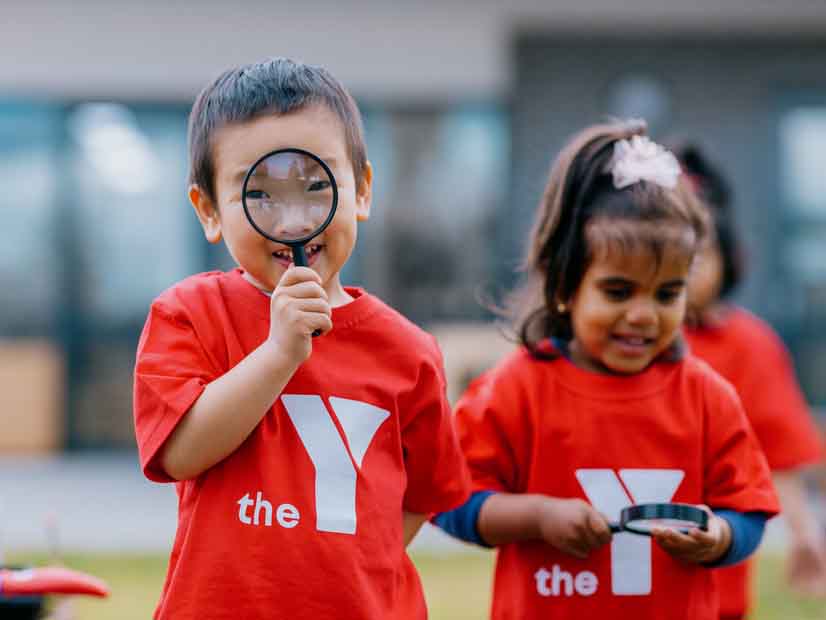 Get school ready with the Y
Our kindergarten program follows the national Early Years Learning Framework (EYLF) developmental concepts of 'belonging', 'being' and 'becoming' and we adapt these to the learning and developmental needs of your child.
At the Y we tailor our monthly kindergarten activities plan to suit your child's interests and learning styles, set learning goals with parents, and provide regular feedback to parents on these areas.
Our kinder curriculum focuses include:
Reading
Writing
Maths
Problem Solving
Creativity
Environment and sustainability
Effective communication skills
Togetherness and teamwork
Self-confidence and autonomy
Active learning skills
Project work
Our passionate educators inspire and help instil positive and healthy attitudes to learning.
Is my child eligible for kindergarten?

Your child needs to turn 3 or 4 before April 30 to enrol on 3 or 4-year-old kinder for that year.

Kindergarten fees and the kindergarten fee subsidy

We're participating in Free Kinder, which means that there are no kindergarten fees for sessional kinder at our Derrimut, Lightning Reef, Mernda and Truganina South centres. The Child Care Subsidy (CCS) does not apply to sessional kindergarten fees.

The fees for integrated kindergarten are charged on a daily rate and paid fortnightly at the Y. The Child Care Subsidy (CCS) is available to be applied to these integrated three and four-year-old kindergarten daily fees. You can also receive Free Kinder funding for integrated kindergarten.

View the location page for kinder fee information for your preferred centre, or learn more about Free Kinder.

Is kindergarten free in 2023 and 2024?

Yes, we're participating in the Victorian Government's Free Kinder program in 2023 and 2024. This means you can get up to 15 free hours of three and four-year-old kindergarten each week – saving you up to $2500 over the calendar year. Find out more about Free Kinder.
The Y Victoria is dedicated to providing high quality early learning kinder program for Victorian families. We have kindergarten programs at 17 early learning centres across Victoria. Use the button below to find a kindergarten in your area.