Narre Warren
Location

Narre Warren Early Learning Centre (ELC)
4-12 The Avenue
Narre Warren South VIC 3805

We're a 10-minute drive from Berwick Station and Casey Hospital, and five-minutes from Casey Central Shopping Centre and Eden Rise Shopping Village.

Our centre is also next door to Kingswim Narre Warren, offering a convenient location for swimming lessons.
Opening hours
Monday – Friday
7:00am – 6:30pm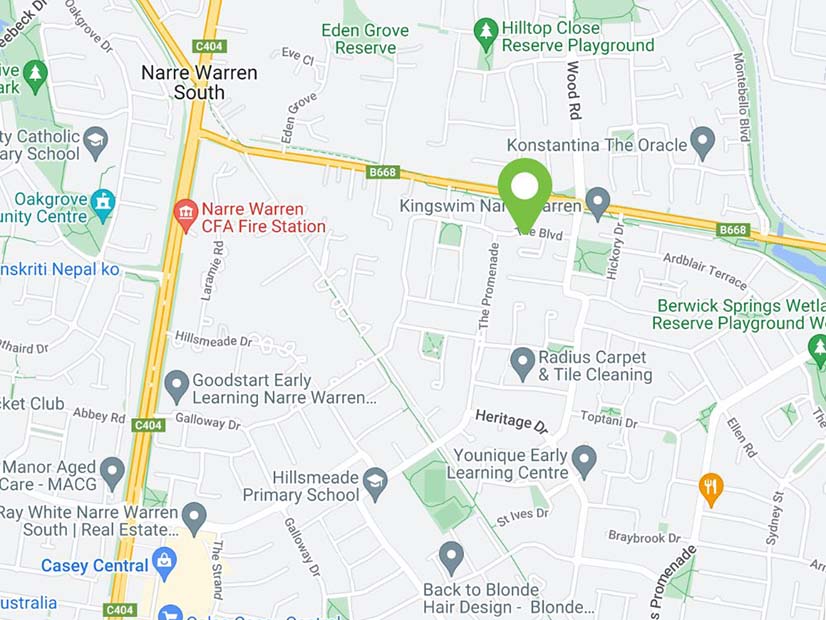 Our Narre Warren centre is a well-established service at the heart of Narre Warren South. Specialising in early education, many of our educators are long term staff and we pride ourselves on our community connections and strong relationships with families.
As a smaller centre, you'll find a calm, warm and welcoming environment where we're able to pay special attention to each child. Families trust and respect our educators for their dedication to the wellbeing of all children and for delivering high quality educational programs in a safe environment.
As a community-focused, not-for-profit centre, we enjoy getting to know all our families and pride ourselves on the relationships we develop.
Childcare and kindergarten services
Long day care
We provide childcare and early education for children from six weeks to five years of age.
Integrated kindergarten
We have fully funded, free kindergarten programs integrated into long day care.
Both three-year-old kinder and four-year-old kinder is offered and led by a bachelor-qualified early childhood teacher.
Our facilities
At our centre, children can get involved in range of activities that encourage their creativity and develop their numeracy and literacy skills. Our lending library, for example, encourages a love of reading from an early age.
We have a large outdoor space where children can discover, explore, climb, balance and play. Your child will be able to take part in nature-based experiences as well as activities that encourage social interaction and teamwork. They'll also learn about gardening and healthy eating by exploring our veggie garden and composting farm.
Our educational program includes regular excursions within the local community. We run programs around road safety and safety with dogs, and even run a fun Worm Wee project to teach children about sustainability. Teaching children about different cultures is also important to us, so we incorporate cultural celebrations into our program.
Meet Jo Smith (Centre Manager)
I've worked in early childhood education for over 30 years and have been Centre Manager at Narre Warren for 18 years.
With two children of my own, I understand what a privilege it is to be trusted with the care of others' children. It's important to me that all children receive the care and education that I would want for my own.
I'm passionate about providing high quality, educational and innovative programs to enhance your child's learning. At our centre, I create a sense of belonging that helps children, families and staff all feel safe and comfortable.
Supporting families is a hugely rewarding part of my role and I strive to develop strong partnerships and connections with all families.
Our team of educators can speak a range of languages as well as English. These include German, Hungarian and Singhalese.
I look forward to meeting you!
Why choose the Y?

We provide your child with:

Prices
To support our families, we offer both permanent and casual enrolment options. Please see our current daily price for child care (long day care) and kindergarten (three and four-year-old kinder) below.
The actual price you pay may be reduced if you are eligible for the Child Care Subsidy.
Childcare permanent
Childcare casual
Kindergarten permanent
Kindergarten casual
Free Kinder: how does it work?
We're participating in the Victorian Government's Free Kinder program. Free Kinder provides up to 15 hours of free kindergarten for three and four-year-olds, up to a value of $2000 for integrated kindergarten programs.
The Victorian Government provides Free Kinder funding to our ELC, not directly to families. This means that Free Kinder will be credited on your invoice and you won't be out of pocket.
For integrated kindergarten programs (where kinder is a part of long day care), Free Kinder will appear as a weekly credit of $50.00 on your YMCA account statement. We deduct this credit from your fees, so you'll only need to pay for the cost of day care.
How to enrol
1. Talk to us

Talk to our customer service team. We can check child care and kinder availability and explain the next steps. Submit an enquiry form or call us on (03) 8371 0500.

2. Visit us

Meet our centre manager and visit our facilities. Book your tour online, or one of our team members can book you in when we speak with you.
Book a tour

3. Register or sign in

New enrolments, casual enrolments and booking changes are managed through an online system called My Family Lounge. You can register online for a new account or sign in with an existing account.
4. Enrol

Follow our enrolment guide and complete your enrolment in My Family Lounge.
Frequently asked questions

The Y are leaders in quality and safety standards. Our program and procedures have been independently reviewed by the Australian Childhood Foundation.

The Y uses the Kinder Tick because we deliver a government approved and funded kindergarten program led by a qualified early childhood teacher.
Other services nearby