Torquay
Location

Torquay Early Learning Centre (ELC)
35 Legacy Drive
Torquay VIC 3228

We're a three-minute drive from Geelong Road and the Dunes Village shopping centre.

Our centre is located next door to Torquay Coast Primary School where we also run an Outside School Hours Care (OSHC) service.

Opening hours

Monday – Friday
6:30am – 6:00pm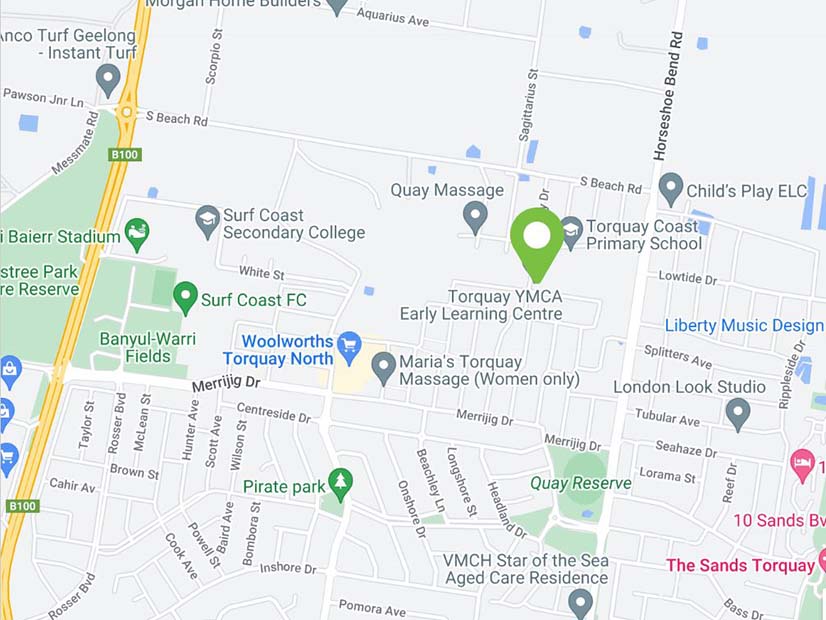 At our Torquay centre, we specialise in early education and create a warm and welcoming environment for children and families. Our childcare is tailored to the needs of each child and we focus on promoting their own natural capabilities.
As a community-focused, not-for-profit centre, we enjoy getting to know all our families and pride ourselves on the relationships we develop.
Childcare and kindergarten services
Long day care
We provide childcare and early education for children from six weeks to five years of age.
Integrated kindergarten
We have fully funded, free kindergarten programs integrated into long day care.
Both three-year-old kinder and four-year-old kinder is offered and led by a bachelor-qualified early childhood teacher.
Our facilities
We have six rooms in our centre, each with inspiring play spaces designed to support your child's learning. Children can explore our kitchen and home corner, get creative in our art spaces and chill out in our relaxation areas. For children under three years of age, we have separate sleep rooms.
We also have an outdoor yard that caters for all ages, as well as a kinder yard. Outdoor play is really important because it allows your child to get active, strengthen their movement skills and of course have lots of fun! Your child could splash around in our water play spaces, build in the sandpits and connect with nature.
As part of our educational program, we take the children on a variety of exciting excursions. This provides opportunities for your child to learn about the world around them and interact with the local community. We also offer incursions to enrich your child's learning.
Meet Elicia Shepherd (Centre Manager)
I entered this industry when my son was a baby, inspired to support his learning. This grew into my passion for supporting the learning of all young people. Every child deserves the highest quality of care, and we should always support their imagination and sense of exploration.
I'm passionate about creating an environment that supports children and their families, as well as our educators and teachers. That's why we create a community that supports the value and importance of early years education.
Now a mother of two small children, I understand how hard it is to juggle your career, life and children. We're here to support you with that juggle, so you can feel reassured that your child is in safe hands.
Our team of educators can speak both English and Greek. We look forward to welcoming you to our centre!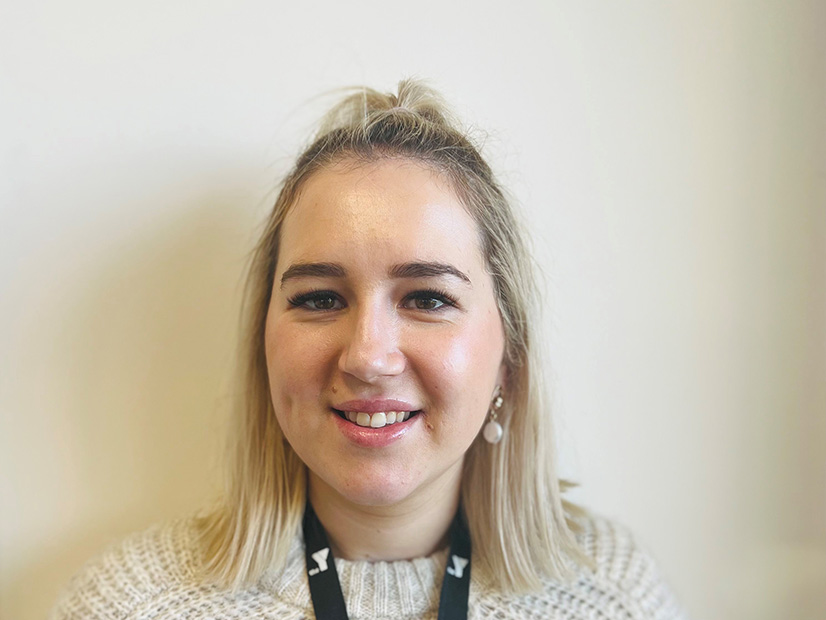 Why choose the Y?

We provide your child with:

Prices
To support our families, we offer both permanent and casual enrolment options. Please see our current daily price for child care (long day care) and kindergarten (three and four-year-old kinder) below.
The actual price you pay may be reduced if you are eligible for the Child Care Subsidy.
Childcare permanent
Childcare casual
Kindergarten permanent
Kindergarten casual
Free Kinder: how does it work?
We're participating in the Victorian Government's Free Kinder program. Free Kinder provides up to 15 hours of free kindergarten for three and four-year-olds, up to a value of $2000 for integrated kindergarten programs.
The Victorian Government provides Free Kinder funding to our ELC, not directly to families. This means that Free Kinder will be credited on your invoice and you won't be out of pocket.
For integrated kindergarten programs (where kinder is a part of long day care), Free Kinder will appear as a weekly credit of $50.00 on your YMCA account statement. We deduct this credit from your fees, so you'll only need to pay for the cost of day care.
How to enrol
1. Talk to us

Talk to our customer service team. We can check child care and kinder availability and explain the next steps. Submit an enquiry form or call us on (03) 8371 0500.

2. Visit us

Meet our centre manager and visit our facilities. Book your tour online, or one of our team members can book you in when we speak with you.
Book a tour

3. Register or sign in

New enrolments, casual enrolments and booking changes are managed through an online system called My Family Lounge. You can register online for a new account or sign in with an existing account.
4. Enrol

Follow our enrolment guide and complete your enrolment in My Family Lounge.
Frequently asked questions

The Y are leaders in quality and safety standards. Our program and procedures have been independently reviewed by the Australian Childhood Foundation.

The Y uses the Kinder Tick because we deliver a government approved and funded kindergarten program led by a qualified early childhood teacher.
Other services nearby