Cobram Primary School
Location
79-98 William Street
Cobram
VIC 3644
Programs offered
Before School Care opening hours
Monday to Friday
6:30am – 9:00am
After School Care opening hours
Monday to Friday
3:20pm – 6:00pm
School Holiday Program opening hours
Monday to Friday
6:30am – 6:00pm
Contact us in centre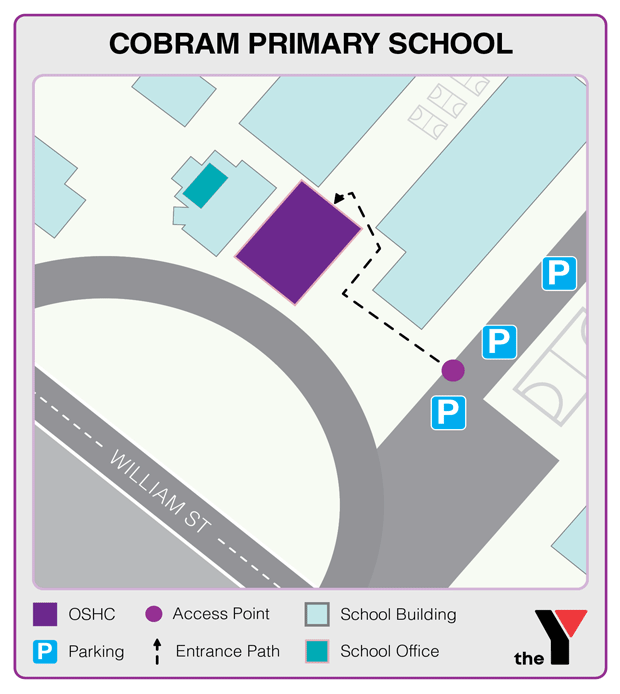 Our Before School Care and After School Care programs are here to support busy families outside of school hours. Suitable for children from five to 12 years, our programs are a great way to complement your child's learning.

We'll support your child through fun and educational activities. This could include arts and crafts, board games and puzzles, cooking, drama and dancing, and sport and ball games. Our friendly Educators can also help your child with their homework.

We even provide a nutritious breakfast to set your child up for the day ahead, as well as healthy and delicious afternoon snacks.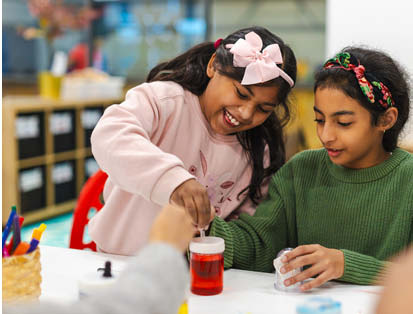 Our holiday program provides an opportunity for your child to learn from new experiences through fun activities, while making friends along the way.

We offer a wide variety of interest-based in-house activities, themed incursions and exciting excursions. Our holiday programs are run by experienced Educators who help your child become more confident and independent.

Activities could include building your own woodwork or pottery creations, enjoying a day of footy themed games – or learning all about Australian animals during a visit from wildlife experts. We've even taken children on fun-filled trips to places like Bounce Wodonga and Village Cinemas Shepparton.

Keep an eye out for our upcoming program – we'll share the schedule on this page about four weeks before the school holidays start.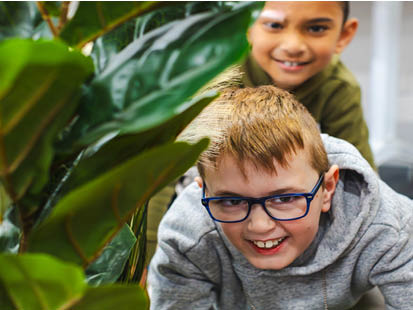 To support our families, we offer permanent and casual booking options. Casual bookings do incur an additional cost.

The table below lists the current daily fees for our Outside School Hours Care services at Cobram Primary School.
Program

Fee

You pay as little as*

Before School Care (permanent booking)

$20.30

$3.05

Before School Care (casual booking)

$25.30

$3.80

After School Care (permanent booking)

$25.80

$3.87

After School Care (casual booking)

$30.80

$4.62

School Holiday Program (in-house)

$90.00

$9.00

School Holiday Program

(incursion)




Price available when each holiday program is released.

School Holiday Program

(excursion)




Price available when each holiday program is released.
Our programs qualify for the Federal Government's Child Care Subsidy (CCS). CCS helps eligible families access approved and registered child care providers by partially subsidising the cost of daily fees.
The 'Fee' price listed in the table above is the full permanent or casual daily fee for each program without any CCS entitlements.

*The 'You pay as little as' price is an example of how little you could pay if you qualify for the maximum CCS percentage (90%) as provided by the Federal Government. We've calculated this price to allow for the 5% withheld by Services Australia to reduce the chances of an overpayment.
When our holiday programs are open for bookings, you'll be able to see the prices for each activity on this page. These prices are the daily price and do not include any CCS you may be entitled to, which could significantly reduce your out of pocket expense.
Learn more about Child Care Subsidy or visit the Service Australia website for more information. We also recommend using this CCS calculator to estimate your new subsidy payments.
Bookings are now open for our Summer 2023-2024 School Holiday Program! The program runs on weekdays from Monday 2 January to Thursday 25 January 2024.
We've planned a bumper program of school holiday activities that will interest your child over the holidays. There are three different types of activity days.
Activity days
In-house (activities run by our Educator team)

Incursion (activities run by visitors to our service)

Excursion (activities run at an off-site location)
What to bring
Lunch and snack (nutritious and nut free)

SunSmart hat and sunscreen

Water bottle

Weather appropriate clothing and shoes

Swimwear, towel and change of clothes as required (if an activity involves water)
You can also read our School Holiday Program FAQs.
The prices listed in the table below are the full fee for each day. If you're entitled to Child Care Subsidy, what you actually pay could be significantly reduced.
Date

Holiday activity details

Week 1 18 - 22 December 2023 - Closed

Date

Holiday activity details

Week 2 25 - 29 December 2023 - Closed

Date

Holiday activity details

Week 3 1 - 5 January 2024

Monday
1 January
Closed due to public holiday
Tuesday
2 January
Fun and Games
This is your chance to invent your very own game. Then challenge your friends to play and see who is the true game champion.
Category: In-House Day
Cost: $90.00

Wednesday
3 January
All About Art
Bring out your inner artist as we paint a canvas, sculpt clay models and learn cartoon drawing.
Category: In-House Day
Cost: $90.00

Thursday
4 January

Game Day
Enjoy a day filled with challenges and competition. From board games to table tennis, the options are endless!
Category: In-House Day
Cost: $90.00

Friday
5 January
Explore Your Senses
Get ready for a sensory experience. We'll be exploring sight, sound, smell, taste and touch with a variety of activities.
Category: In-House Day
Cost: $90.00


Date

Holiday activity details

Week 4 8 - 12 January 2024

Monday
8 January
Under the Sea
We'll explore all things fishy. We have loads of craft activities and games planned and then fish and chips for afternoon tea!
Category: In-House Day
Cost: $90.00

Tuesday
9 January
Goanna Golf
Play mini golf amongst the gum trees. Experience this Australiana-themed course, with tricks and tracks to challenge every golfer.
Category: Excursion
Cost: $115.00

Wednesday
10 January
Fun and Games
This is your chance to invent your very own game. Then challenge your friends to play and see who is the true game champion.
Category: In-House Day
Cost: $90.00

Thursday
11 January
A Trip Into Space
Blast off! We're exploring space and our solar system from earth! Make a rocket, and discover the wonders of outer space.
Category: Incursion
Cost: $90.00

Friday
12 January
OSHC Chefs
Create your own chef hats, roll up your sleeves and lets embark on a culinary adventure all together. We will explore the wonderful word of cooking and discover new flavours!
Category: In-House Day
Cost: $90.00


Date

Holiday activity details

Week 5 15 - 19 January 2024

Monday
15 January
Indigenous Awareness Day
Explore Australia's indigenous history and culture and read dreamtime stories, dance to indigenous music and create unique indigenous craft activities.
Category: In-House Day
Cost: $90.00

Tuesday
16 January
Make It Day and Disco
We're turning recycled goods into amazing creations. Then in the afternoon it's time to show us your best moves at our disco.
Category: In-House Day
Cost: $90.00

Wednesday
17 January
Movies - Cobram Cinemas
Lights, camera, action! Sit back and relax, because we're heading to our local cinema to watch the latest new release movie.
Category: Excursion
Cost: $130.00

Thursday
18 January
Dress Up Party
Whatis your favourite costume? Come dressed up in your favourite costume for a day filled with fun games!
Category: In-House Day
Cost: $90.00

Friday
19 January
Monster Madness
Calling all little monsters! Let your inner monster run wild with a day packed with monster inspired activities.
Category: In-House Day
Cost: $90.00


Date

Holiday activity details

Week 6 22 - 26 January 2024

Monday
22 January
Creating With Clay
Explore the wonderful world of clay. From pots to sculptures, let your imagination run wild and create a clay masterpiece to take home.
Category: In-House Day
Cost: $90.00

Tuesday
23 January
What's Your Favourite Colour?
Come dressed in your favourite colour as we learn about different colours.
Category: In-House Day
Cost: $90.00

Wednesday
24 January
Welcome to Italy
Ciao! Come dressed up in your Red, Whte and Green clothing and do traditional cookings, games and dancing!
Category: In-House Day
Cost: $90.00

Thursday
25 January
Construction Challenge
We're using cardboard and other recycled materials to create engineering masterpieces. Then we'll test how much weight they can hold.
Category: In-House Day
Cost: $90.00

Friday
26 January
Closed due to public holiday


Date

Holiday activity details

Week 7 29 January - 1 February 2024 - Closed